In 2021, I invested in myself. I signed up for the Blogging Accelerator Program with Katie Dodd, MS, RDN, CSG, LD, FAND. I've heard of similar programs that cover the same topic for dietitians, but after some due diligence, I decided to take this course. I'm going to go ahead and say this is one of the best, if not thee best, blogging courses for dietitians. There, I said it. The Blogging Accelerator Program is the best blogging course for registered dietitian nutritionists.
*Please note, as an affiliate, I make a commission on purchases made through the below links for the Blogging Accelerator Program.
My Story
My real blogging journey started in August 2021. I had just celebrated my 38th birthday when I had a moment of clarity. It was during this time that realized that I wanted so much more out of my life. I wanted to dream bigger and create the life I've always wanted for me and for my family.
Don't get me wrong, I cannot really complain. My life is great. I married the love of my life (Matt) in 2016, we rescued our crazy (but oh so lovable) dog Rocky that year, and we have two beautiful children, Ryan (5) and Maura (3). We live in a single-family home in the suburbs of Baltimore, Maryland and we have all the necessities life has to offer, and then some. Life is good.
But on my 38th birthday, I came to the realization that I have not yet reached my full potential when it comes to my career as a registered dietitian nutritionist (RDNs). I've been a mom for a few years now. I've been a RDN for about fifteen years. And yet, I didn't feel like I was even close to reaching my full potential.
I knew that there was so much more value that I could bring to the table to better serve and help others, especially those in my profession. Aside from my full-time job, I needed something more. I wanted something where I can provide value to other RDNs to help get their messages out into the world.
In August 2021, I came across Katie Dodd's Dietitian Side Hustle website and learned about her Blogging Accelerator Program. I think it was part coincidence that I found Katie and her program; but I also thought of it as part opportunity. And to me, opportunity is where luck and preparation meet.
At that moment, I was prepared and ready. I was able to take on this opportunity. And so, without fully understanding what was about to unfold in the months ahead…I told myself to trust the process, take a risk on myself, and go 100% all in. From this, The Dietitian Editor blog and brand was created.
---
Side note:
You probably noticed that, in the first sentence above, I said my "real" blogging journey. Over the years, I cannot tell you how many times I've started and stopped something as it relates to a business idea, blog, or side hustle project. I'm not exactly sure of the reasons as to why I stopped, but what I can tell you is that I've learned a lot about myself over these past 5 months (since August 2021 when I started the Blogging Accelerator Program). And I quickly came to realize that so much of it came down to my broken mindset, not believing in myself, and most of all, feeling too scared to take a risk on myself.
---
In this blog, I'll dive a little deeper into a review of the program and all the value it provides, as well as some of the important life and business lessons I've learned on this journey so far, and my top ten reasons to join this program today.
Many of these lessons have contributed to the positive shift in my overall mindset, confidence, and my newfound ability to take risk, both personally and professionally.
I'll also talk about whether or not you would be a right fit for the program.
---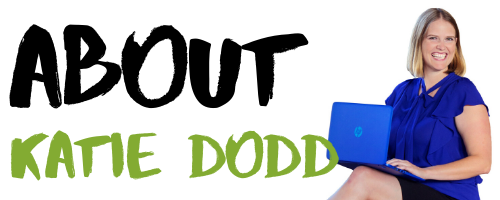 About the Instructor – Meet Katie
Katie M. Dodd, MS, RDN, CSG, LD, FAND
Katie's story is pretty amazing. After 2 ½ years of blogging and side hustling, Katie was able to leave her full-time job and jump 100% into full-time entrepreneurship. Her journey has been incredible to watch to say the least.
Katie is a nutrition entrepreneur, expert side hustler, and Board-Certified Specialist in Gerontological Nutrition. Her resume is quite impressive. But besides all the credentials, awards, and recognition that Katie has received over the years, what I love most about working with Katie is her ability to listen, provide immense value to her students and peers, and teach others how to make money doing what they love while helping others.
Her method of teaching resonated with me, her personality and authenticity really aligned with me, and her good intentioned, faith-based belief system also helped me to quickly realize that this is the person I need by my side on this journey.
Want to learn more about Katie?
For more information about Katie, check out her LinkedIn page as well as her websites:
Katie has been a mentor, peer, blogging coach, and friend over the last year or so. I feel privileged to get to work with her and learn from her as I continue this journey.
---
About the Best Blogging Course for RDNs: Blogging Accelerator Program
The Blogging Accelerator Program is an accelerated program to launch dietitians into the online space making money through multiple income streams without seeing patients. It starts with an 8-week signature course that will take you about 5-7 hours to complete each week.
Each week is broken up into four components – an intro, core learning content, resources to download, and action items. You will gain confidence and most importantly make your dietitian side hustle dreams come true.
Here is a Week-by-Week Breakdown of the Blogging Accelerator Program:
Week 1 – Discover

Identify your niche and blog name.
Week 2 – Build

Build the bones of your website and hit publish!
Week 3 – Learn

Begin learning SEO and polishing your website pages.
Week 4 – Find the Gold

Discover what blog topics will bring in the traffic.
Week 5 – Create

Write your first blog post.
Week 6 – Nurture

Create additional online audiences online to nurture.
Week 7 – Dream

Uncover potential income streams you want to build.
Week 8 – Plan

Create a plan for blog posting, nurturing your audience, and creation of income streams.

This is where patience + progress + consistency = success.
---
Best Blogging Course for RDNs – Tools and Templates
Here are some of the Blogging Accelerator Program Tools and Templates that are included:
Program Guide
Business Starter Checklist
Social Media Starter Checklist
Website Starter Checklist
Blog Builder Workbook
Blog Tracker Spreadsheet
Keyword Research Strategy Tool
Financial Tracking Worksheet
HARO Email Template
Log-In Tracking Worksheet
Webpage Templates
Volunteer Program Checklist
Email Marketing Checklist
Blogging as a Business Worksheet
5-Strategies to Free Up Time
75+ Resources to Save Time and Money
And more!
---
Lifetime Access to the BAP Facebook Group
Beyond the 9 to 5 Coaching Course
Dietitian Coaching Workbook & Journal
Fast Track Blog Builder & Workbook
Featured in the Nutrition Blog Directory
Live Q&A Monthly Group Calls
BONUS Content – Canva Template Library, How-to Use Canva Training, and How-to Use Flodesk Training
Newer Program Features (Valued at $16,000!)
Blog Accountability Group ($5,000)
Monthly Guided Blog Starter Calls ($5,000)
Monthly Marketing, Sales & Mindset Group Calls ($5,000)
Something to Sell Course ($1,000)
---
Important business and life lessons I have learned through blogging.
At the end of 2021, I decided to write a blog post on the 10 Lessons I Learned Through My Blog. Here is the list, plus a few bonus lessons:
Done is better than perfect.
Own Your Morning. Elevate Your Life.
Surround yourself with people who lift you up.
Practice self-care.
Dream big and do the work.
Mindset is everything.
Passive income blows my mind.
Keyword research is my jam.
To provide value, we must create solutions to people's problems.
Patience + Progress + Consistency = Success
Bonus lessons shared:
Bet on yourself more often.
Nobody cares, work harder.
The trifecta of community, accountability, and taking imperfect action is critical to your success.
---
Best Blogging Course for RDNs – Are you ready?
Are you a good fit for the Blogging Accelerator Program?
If you have tried to take action before but find yourself starting and then stopping on various side hustles or projects like I did in the past, then this program may be a good fit for you.
In the past, have you tried to do things on your own but were never held accountable or had a sense of community to share wins or struggles with, or to reach out to with questions? If you answered yes, then this program may be a good fit for you.
If you are ready to take action and bet on yourself, then you CAN absolutely change the trajectory of your life and create the life you've always dreamed of.
Allow yourself to dream big. Then dream even bigger. The only person holding yourself back is YOU.
If you have questions or want to reach out about the program, I'd encourage you to contact Katie directly, but I'm also happy to hop on a call and tell you more about my experience.
The great thing is that once you sign up for the program you automatically get lifetime access. Lifetime access is just a fancy way of saying that as Katie continues to improve and grow the program, you will automatically have access to those updates as well.
Hope to see you in the Blogging Accelerator Program!
I consider this program one of the best career decisions I've made for myself. I proudly and confidently say this is the best blogging course for RDNs out there.
---
Best Blogging Course for RDNs – Blogging Accelerator Program
---
NEED 10 MORE REASONS WHY YOU SHOULD JOIN?
By now, I hope you understand how Blogging Accelerator Program (BAP) has played a significant role in my business, my mindset, and my overall growth (both personally and professionally) over the past year.
While I've been a registered dietitian nutritionist for 16 years now, I can now say, with conviction, that this side hustle I've started (The Dietitian Editor) will be an absolute game changer for my family in the weeks, months, and years ahead. And what's so exciting is that my brand/business is just 16 months old! But within this past year or so, I have taken more risks on myself, strategically invested in myself and my business, and shifted into a growth mindset… all things that could not have happened so quickly without the Blogging Accelerator Program with Katie Dodd.
As long as you put in the work and understand that blogging is a long term game; you will reap the benefits of your work (time and time again through multiple streams of passive income through your blog).
Do the work, trust the process, and good things will come your way!
10 Reasons to Join Blogging Accelerator Program Today!
#10 – Supportive and Engaging Community
The Blogging Accelerator Program has such a supportive and engaging community through the private Facebook group. And as if that wasn't enough, I've formed some really great friendships, too!
#9 – Lifetime Access to the Course
Since I've been a member in August 2021, I can say that Katie continually works to improve existing course content and add new course content, especially like with the new BONUS content – Something to Sell.
#8 – The Instructor: Katie Dodd
Katie is an excellent teacher, mentor, and cheerleader throughout the program and beyond through the private FB group. She provides such immense knowledge, motivation, and support to the BAP community. Her story is a true testament that, yes – this can be done, if you take some risks and put in the work. Katie also really pushes you to think big and create bold and audacious goals (way beyond your wildest dreams!).
#7 – Discover Your Why
In Week 1 of the course, you take Katie's other class, "Beyond the 9 to 5 Coaching Course," which helps you to dig deep and find clarity into what it is exactly that you are setting out to do and more importantly, why are you doing this "thing." If you don't have a strong enough "why," then things can quickly crumble when things get tough. Your "why" helps you stay laser-focused, motivated, and relentless in reaching your goals.
#6 – Embrace the Concept: Done is Better Than Perfect
You will hear Katie say this time and time again, when you are in the course (and beyond!). But no matter how many times you hear this concept, it's always a good reminder that done is better than perfect. So often, we are looking to create these perfect blog posts, perfect website, perfect images, and the list goes on and on. And in the meantime, you are procrastinating and not hitting publish. Google cannot see your content unless you hit publish. Embrace this concept. Embrace perfectly imperfect. And you (and your blog) will be better off for it.
#5 – Go from a Fixed Mindset to a Growth Mindset
Blogging Accelerator Programs helps you go from a fixed mindset to a growth mindset. It's all about our mindset. If you think you can, you will. if you think you can't, you won't. It's as simple as that. Focus on being in a growth mindset and don't put limits or constraints around what you think or don't think is possible. Just get after your goals! This program helps you make this gradual shift in your mindset.
#4 – Create a Website That Generates Passive Income
You will have a website up and running by the time you complete this course. This website will help you to generate multiple streams of passive income for years and years to come. While the bread and butter of bloggers income is from ad revenue, qualifying for Mediavine takes time. It can take about 17-19 months, on average, if you put in the time and do the work consistently. Once you qualify, you'll be making money, month over month in passive income, meaning you are not trading your time for money.
In the meantime (before qualifying for Mediavine), you'll learn about other streams of passive income like digital goods, group programs, online courses, freelance writing, speaking, etc. Katie covers it all in the program, and through her new Something to Sell course that you will have access to as well.
#3 – So Many Great Resources
In addition to all the video lessons, the guided workbook, and communicating with other BAP members in the private FB community, Katie also provides so many supporting resources like links, handouts, checklists, and more. Katie definitely overdelivers on value in her course!
#2 – It Really Works
It really does work. I have continued to invest in myself and in my business by continuing to work with Katie. Since starting the program, my website has seen significant growth in traffic, especially in recent months. I'm currently at ~3,000 sessions x 30 days and it's continuing to grow exponentially. (For point of reference, you need 50,000 sessions x 30 days to qualify for Mediavine). My goal is to reach Mediavine by Summer 2023. At that time, my blog will be just about 2 years old.
Also, I've created multiple streams of passive income since being in the program, such as digital goods, a product on Amazon KDP, and my signature online course called Click to Publish: The Ultimate Guide for RDNs to Self-Publish on Amazon. And there are so many other benefits I could talk about, but I think you get the point…
#1 – AMAZING BONUS!
When you join the Blogging Accelerator Program and use my AFFILIATE LINK, you will automatically get enrolled into my signature online course, Click to Publish: The Ultimate Guide for RDNs to Self-Publish on Amazon (Value: $1,997). Tell Katie that Liz sent you!
You can learn more about the course here.
*Please note, I make a commission on purchases made through the links in this article for the Blogging Accelerator Program.